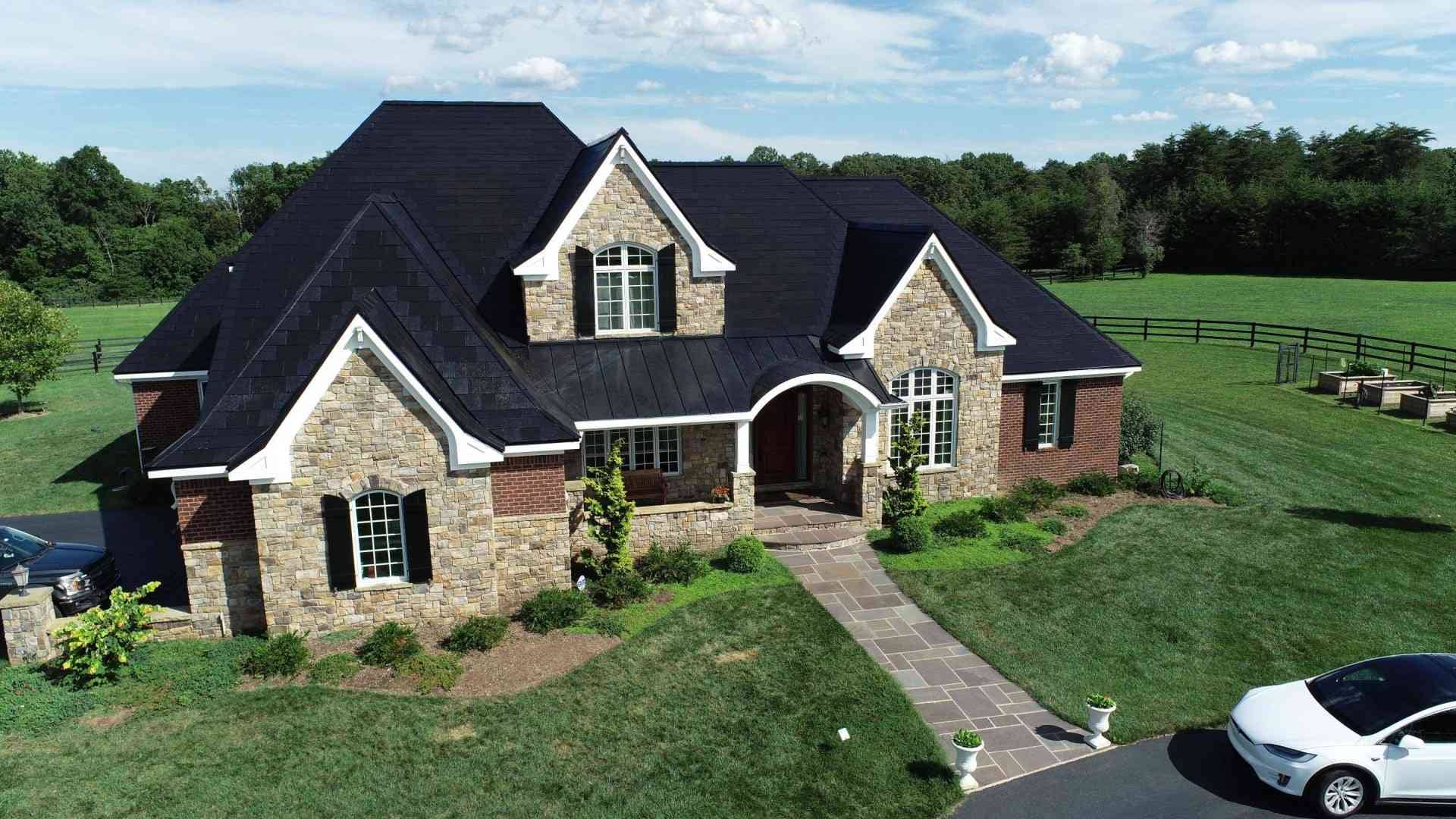 Virginia Solar Roof Experts
Trusted Tesla & GAF Solar Roofing Certified Installers
More Solar Roof Experience Than Any Other Roofer in Virginia
Our expertise in the solar roof field and our team of highly trained solar roof professionals make us the leading solar roof contractor in Virginia. We provide all of our clients with a seamless and stress-free experience, no matter the size of their solar roof project or budget. In addition, we are one of the very first roofing companies to install the Tesla Solar Roof as well as the GAF Energy Timberline solar roof with nailable solar shingles. This new product integrates seamlessly with a new traditional GAF shingle roof. If you're ready to join the millions of other Americans making the transition to clean energy you need American Home Contractors your number one Virginia solar roof contractor with the most installations. We are one of the highest-rated if not the highest-rated Virginia solar roofer.
What are my solar roof options in Virginia?
The current solar roofs we install are Tesla's Solar Roof and GAF's Solar Roof. Each is unique and offers many benefits.
Aesthetically appealing
Tempered glass tiles up to 3X stronger than normal tiles.
Uniformity. Some tiles will generate electricity and others will not.
Fire resistance. Similar to a metal roof these shingles will not easily burn.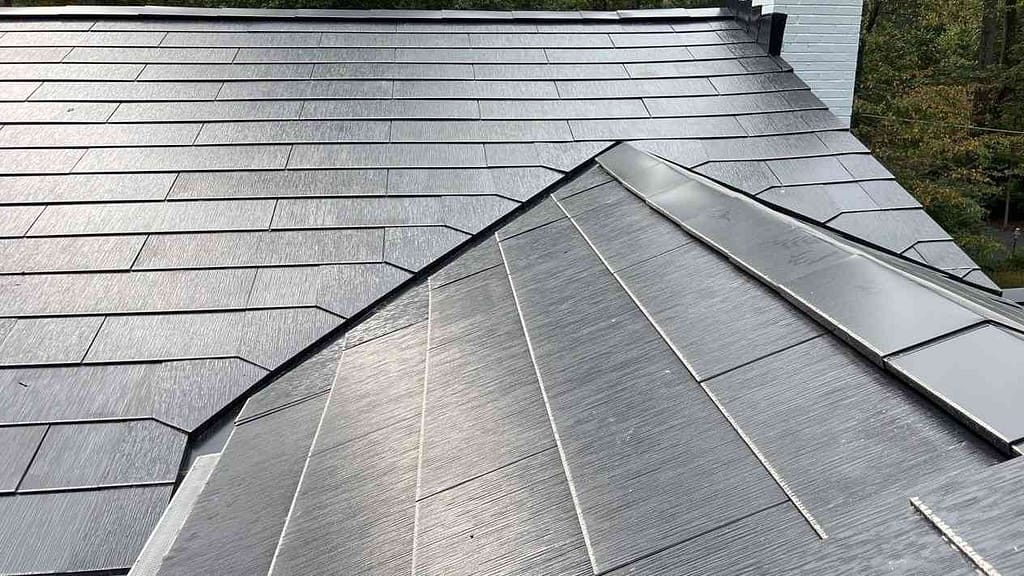 Cost
Ease of installation
Speed of installation
Low profile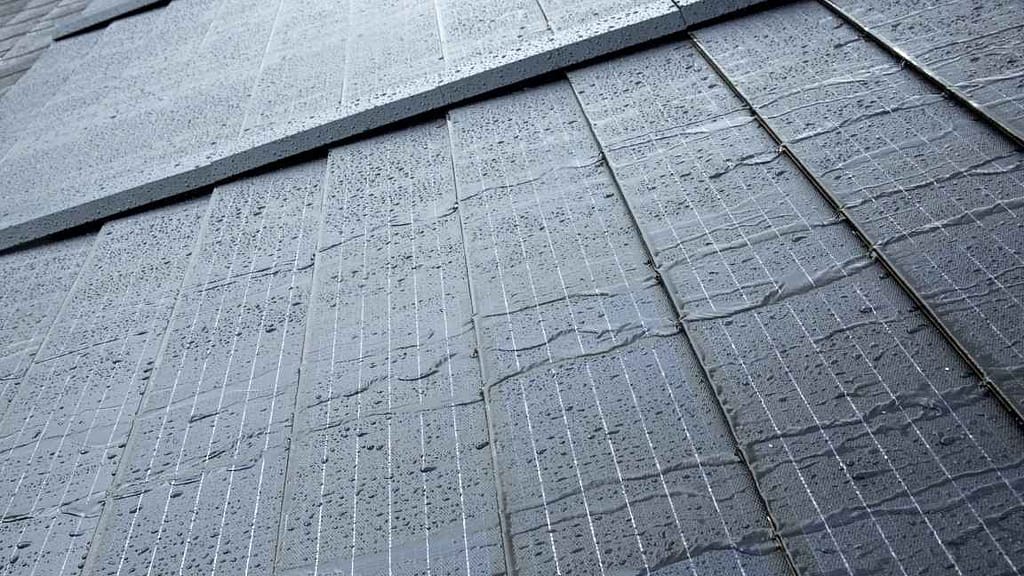 We lead the way in Solar Roof Installations in Virginia
Solar roofs are a great way to save money in Virginia and are environmentally friendly, but it's important to ensure the products you choose are going to be guaranteed for the long haul. American Home Contractors (AHC) is considered the best Tesla solar roofer and GAF solar roofer based on online reviews due to their extensive range of services and dedication to quality. With over 100 years of combined experience and 30 years of delivering exceptional roof outcomes, American Home Contractors has what it takes to meet your needs without fail on your upcoming Virginia solar roof install.
See some of our recent Solar Roof Installations in Virginia:
Experienced
We have been a long-standing solar roof installation company. Our experienced Virginia solar roofer team knows all the ins and outs of solar cell installation as well as planning and permitting. We install Tesla's Solar Roof It is made entirely out of solar cells making sure your home's roof looks flawless.
Superior Materials
In the last decade, solar roofs have made a huge leap forward in improving efficiency and durability. Solar Roofs offer many benefits over other types of systems. They are attractive and durable, as well as powerful and long-lasting. Solar Roofs save money on electrical bills, are environmentally friendly, and are easy to install. Solar Roofs can be customized for any home or business! An effective solar roof install must account for many variables, including structural integrity, wiring, and electrical connections, and the unique needs of each home. AHC has a team backed by years of knowledge in solar roofs. We have mastered the processes that are critical to successful installation and operation, so you can rest assured your plans will be carried out with precision by someone who knows exactly what they're doing.
Review Our Work
We look like a lot of other solar roof contractors when we're out installing a Virginia solar roof install, but you'll notice the difference in the outcome and enjoyment of the process. Our communicative and responsive service keeps our customers informed every step of the way. If you have a question through the process, we want to hear it and we will be happy to answer it. We strive to be the best solar roofer in the USA. For homeowners who want to protect the state's natural beauty and make their homes more energy efficient, a solar system is an excellent choice. Solar provides clean and renewable electricity while protecting our environment. In Virginia, you can take advantage of many financial incentives, including the renewable energy systems tax credit, solar easements and rights, and net metering availability to make it affordable for homeowners to switch to solar.
American Home Contractors is proud to be a Tesla Solar Roof Certified Roof Installer servicing Virginia. Becoming a Tesla Certified installer requires a highly skilled team with experience in installing many solar roofing systems, including some very complex roofing systems only the most experienced Virginia solar roofer professionals can handle. Regardless of the complexity or situation, we are sure you will be convinced that American Home Contractors is the best company for your upcoming solar roofing project.
Relationship-Centric
Our friendly solar contractor team can walk you through the process of transforming your roof from start to finish, what impact it will have on your bills and energy usage, and any other questions you may have along the way.
AHC's personable and approachable attitude towards customers doesn't end there – we're focused on building strong relationships every step of the way. This helps us understand your requirements, both with the project outcome and your preferences in the way we work on your house. We're one of the highest-ranking solar roofing companies near you and we want to earn your business. See for yourself what makes us the best Virginia solar roofer.
---
Proudly Installing Solar Roofs in:
Arlington County
Fairfax County
Loudon County
Rappahannock County
Fauquier County
Alexandria
Fairfax
Springfield
Herndon
Arlington
Sterling
Centreville
Ashburn
Vienna
Chantilly
Get Your Project Started Today