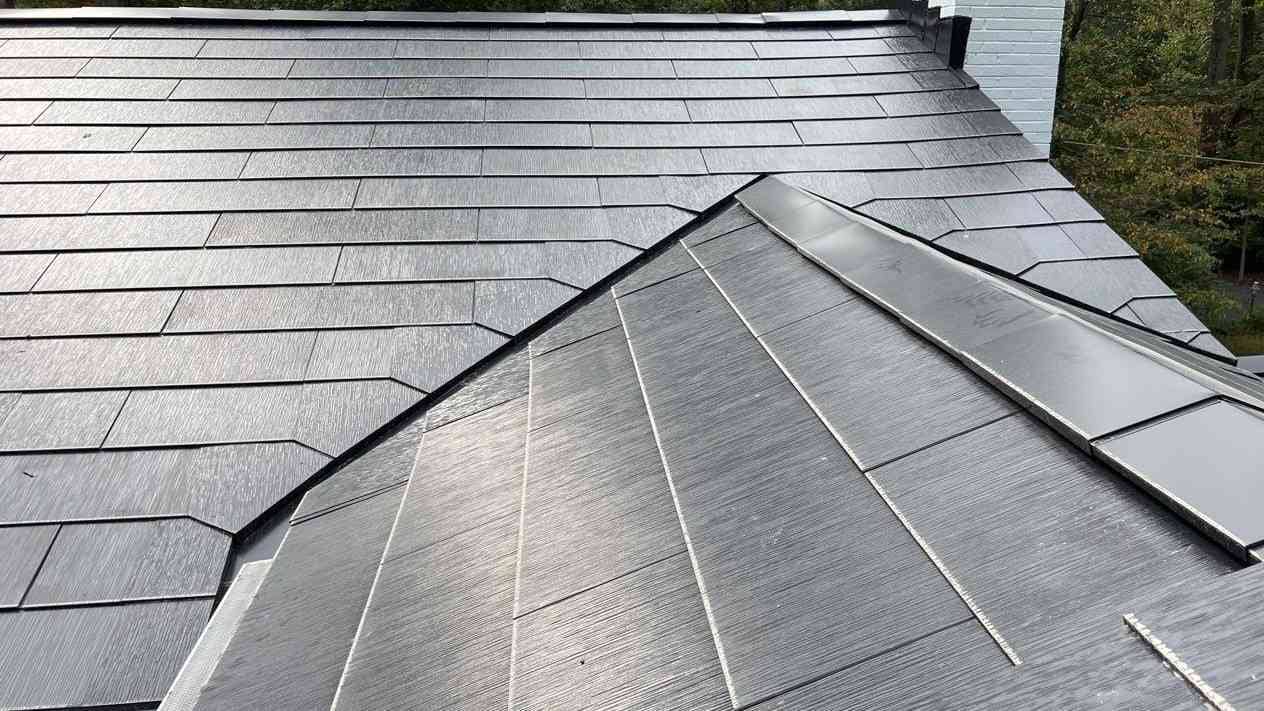 Leading Solar Roof Solutions in Virginia & Maryland
#1 Solar Roof Contractor Leading the Way
Trust the Pros With Your Solar Roof Investment
There are many intelligent and valuable reasons to install a solar roof, and all of them lead to using American Home Contractors (AHC) for the most efficient and professional installation. With over 100 years of combined experience and 37 years of delivering exceptional roof outcomes for customers, AHC is fully equipped to meet your needs and is considered the best solar roofer based on online reviews.
Our experience as a solar company in solar roof installations, planning, and permitting has allowed us to turn the process into a precise science. Our highly trained team has completed dozens of Tesla Solar Roof installations and we have the expert knowledge needed to make sure your investment is completed properly. We provide a stress-free and comfortable service for you without any unexpected challenges popping up along the way.
Trusted Solar Companies in Maryland
When you think solar, think American Home Contractors. Our services in Maryland solar aren't just limited we offer a complete package — from roof inspections to storm damage repair. We stand out from other companies in Maryland because of our commitment to quality and our wide range of roofing materials.
Best Solar Companies in Virginia
Our team provides unmatched solar panels installations, ensuring you harness the sun's power efficiently. Wondering about the cost of solar panels in Virginia or the average cost of solar setups in Virginia? Our transparent pricing and cash purchase options, combined with available financing options, ensure you get the best deal in the market of best solar companies in Virginia.
Understanding the Cost of Solar Panels in Virginia
In Virginia, the cost of solar panels varies based on several factors. These include the size of your installation, the quality of panels you choose, and any additional equipment or services you might need. But let's break this down further.
Size: The bigger your roof, the more solar panels you might need. And naturally, more panels mean a higher cost. But remember, this also means more energy savings in the long run.
Quality and Brand: Different brands offer various prices. Premium brands might cost a bit more, but they often come with longer warranties and better efficiency.
Additional Equipment: Depending on your home's location and design, you might need extra equipment to get the most out of your solar panels.
Installation and Labor: The expertise of the solar companies in Maryland and Virginia plays a role. At American Home Contractors, we ensure quality service at competitive rates.
Incentives and Tax Breaks: Virginia offers several incentives and tax breaks for solar installations. This can significantly reduce your net cost.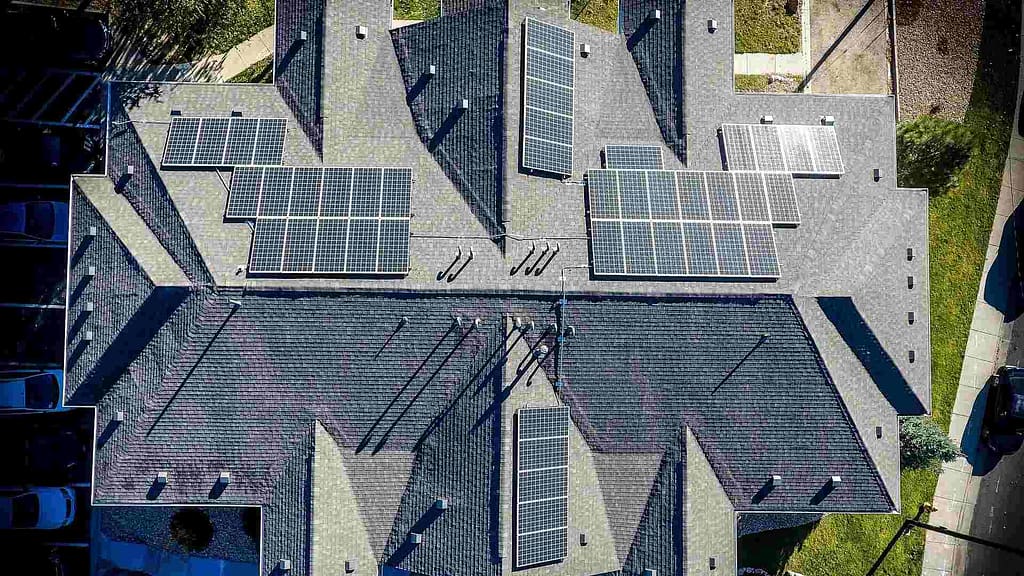 Products We Feature
Factors to Consider Before Going Solar
Choosing to embrace solar energy is a commendable decision, but there are essential factors you need to consider before the installation process. The journey with solar companies in Maryland and Virginia requires a deep understanding of these factors to ensure the most efficient energy production.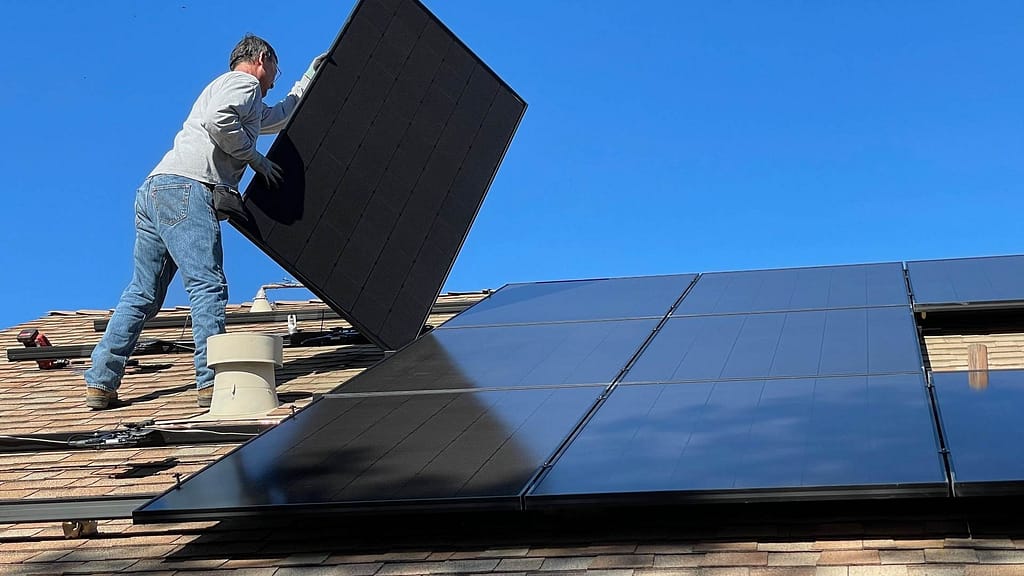 Location and Sun Exposure: It's essential to determine how much sunlight your property in Maryland or Virginia receives. Not every spot is ideal for solar panel installation.
Roof's Structural Integrity: Before going solar, ensure your roof can handle the additional weight. Most solar companies in Maryland, including us, offer a preliminary roof assessment.
Equipment Quality: Choosing the best solar companies in Virginia means getting top-notch equipment. This ensures longevity and optimal performance.
Installation Timeframe: Establish a realistic timeframe for the installation. This helps in planning and ensures smooth transitioning to solar energy.
Maintenance and Warranty: Understand the maintenance needs of your solar system. Also, the best solar companies in Virginia and Maryland often offer compelling warranties, so always inquire about them.
Energy Storage Options: Consider if you'll need battery storage. This can help store excess energy, ensuring power availability even during cloudy days or nights.
Benefits of Choosing Solar Panels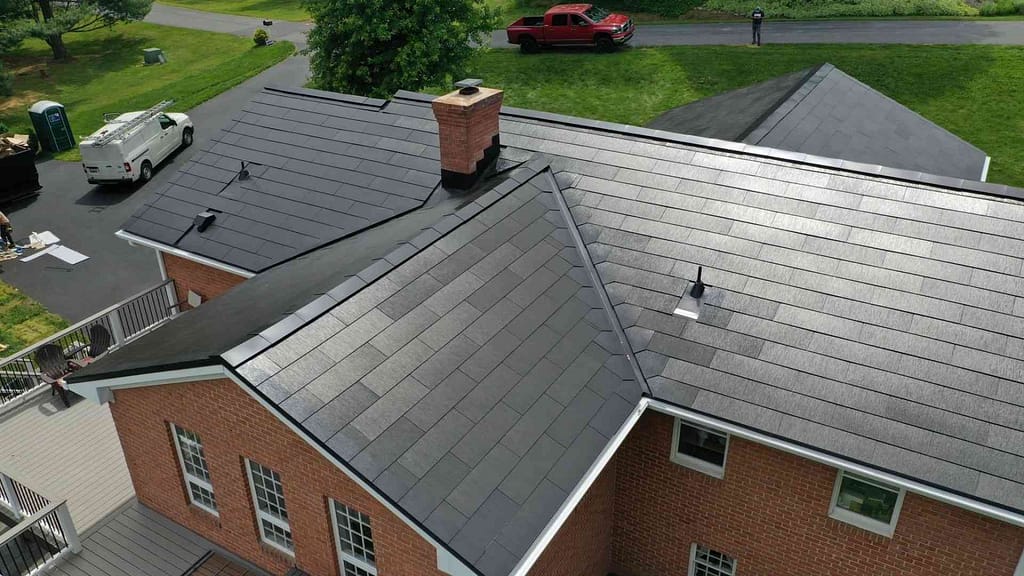 As one of the best solar companies in Virginia and among the leading companies in Maryland solar, we bring more than just panels to your rooftop.
Choosing solar panels for your home brings numerous advantages. Here are some key benefits:
Environmental Effects
Financial Savings
Increased Home Value
Tax Credits and Incentives
Discover Top-Quality Solar Solutions with American Home Contractors
Superior Materials: With a solar roof installation process supported by top-quality materials. We use leading solar material providers such as GAF Decotech and Tesla – because they have proven efficiency and longevity.
Review Our Work: Our communicative and responsive service keeps our customers informed every step of the way. We strive to be the best solar roofer in the USA.
Relationship-Centric: Our friendly solar contractor team can walk you through the process of transforming your roof from start to finish.
More than Just Solar: We cater to various roofing needs, from residential roofing to detailed roof repair consultations
Five-Star Energy Efficiency Houses: American Home Contractor is a leading Five-star solar roof company for Maryland, Virginia, and Pennsylvania because every facet of our operations and business is carefully optimized for project success
Solar Roof FAQs
Why should I choose solar for my home?
Maryland solar is rapidly becoming a hub for solar energy. When you opt for Maryland solar solutions, you're tapping into a community that values sustainability. Additionally, as one of the trusted solar companies in Maryland, we're here to guide you every step of the way
How does the solar scene in Maryland differ from Virginia?
Both states have their unique advantages. Maryland solar initiatives have been in the limelight recently, with increased incentives and tax breaks. On the other hand, Virginia boasts a growing community of solar enthusiasts and offers its own set of benefits for homeowners.
How do I know if my home is suitable for solar?
Every home is unique. When you reach out to us, we conduct a detailed assessment, considering factors like your roof's orientation, shading, and more. Our aim is to provide effective solar solutions tailored to individual needs.
For any questions or to schedule your free in-home estimate, please call your local American Home Contractors office.