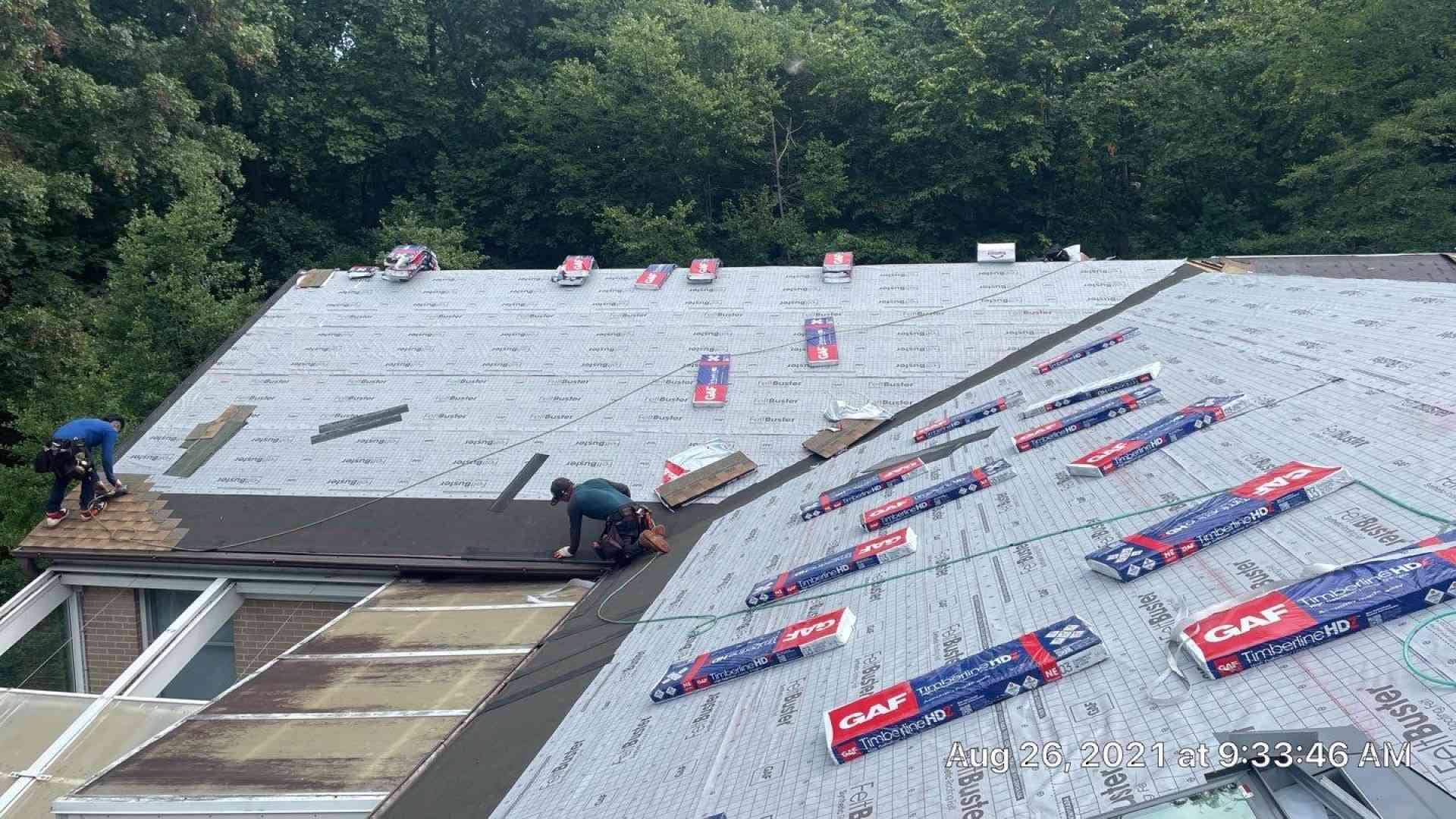 Maryland's Roof Replacement Experts
Maryland's Expert Contractor with Over 37 Years of Experience
Premier Roofing Services in Baltimore
At American Home Contractors, we proudly stand as experts in the realm of roofing services in Baltimore. Our locally owned and operated business has set the standard for excellence in roofing Maryland since 1986. With over 37 years of dedicated experience, we have solidified our position as a leading Maryland roofing company, specializing in roof replacement. Our reputation is grounded in the satisfaction of thousands of homeowners and fellow professionals in the industry. Their positive feedback consistently places us among the top Maryland roofing companies, reflecting our unwavering commitment to quality and expertise.
Roof Replacement in Maryland
Embarking on a roof replacement means starting anew, taking off your home's existing shield and laying down a fresh protective layer. American Home Contractors roof replacement process includes: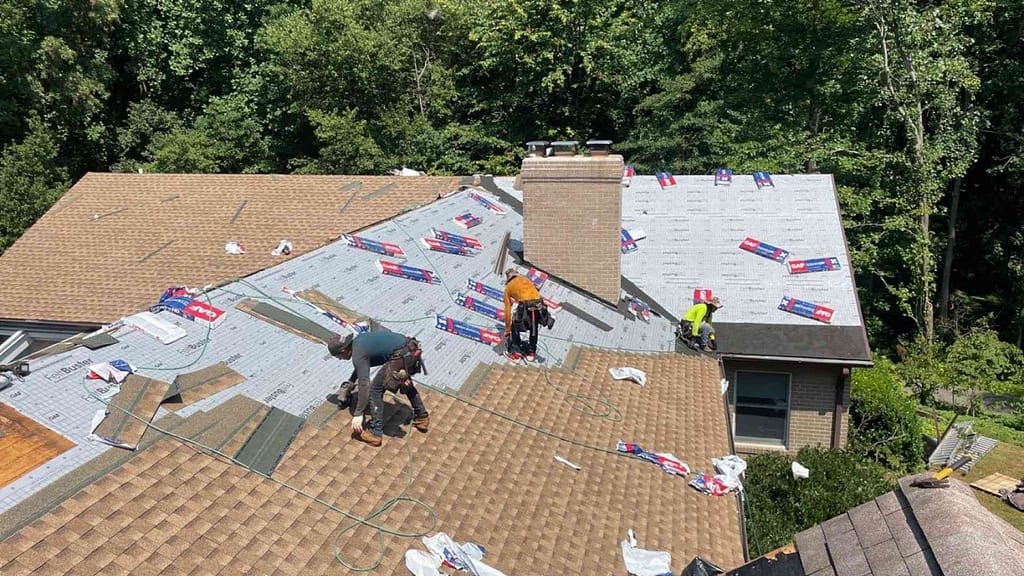 Tearing off all materials from the top of the roof down to the deck
Inspect the deck for wood rot and water damage, replacing wood when necessary
Inspect insulation and ensure proper ventilation
Install new ice and water shield in critical code required areas, synthetic underlayment, and drip edge
Install new flashing where the roof meets walls, chimneys etc.
Caulking and sealing of vents, ridges, and flashing
Installation of new shingles, ridge vent, and matching ridge cap
Clear property of debris and disposal
Roof Replacement Cost In Maryland
Understanding the potential cost of a new roof is crucial, especially in the roofing Maryland market. However, one size doesn't fit all, as various factors can influence the final price. At American Home Contractors, we're your guiding hand in this journey. We stand out with our expansive array of top-tier roofing choices in Maryland. Transitioning seamlessly from the strength of our metal roofs to the popular appeal of asphalt shingles, and further to the modern aesthetics of roofs and the forward-thinking designs of our solar roofs, we've got you covered on all fronts.
Factors Influencing Roof Cost
Type of Roofing Material: Whether you pick metal, asphalt, solar panels, or other materials, each has its own pricing.
Home Size and Roof Pitch: Bigger homes or those with steeper roofs might cost more.
Additional Features: Homes with skylights, chimneys, or other extras can affect the cost.
Labor and Expertise: Quality work by roofers in Maryland, like our team, ensures you get value for your money.
Permits and Licenses: Maryland may have specific permits or licenses which can add to the expenses.
Roofing Materials in Maryland
Choosing the right roofing material is key to the longevity and appearance of your home. In Maryland, we see a mix of traditional and modern roofing choices, all with their unique benefits. Let's explore the most popular roofing options you might consider.
Metal roofs are gaining popularity and beyond. Not only are they durable, but they also offer a sleek look that many homeowners love. As experienced roofers in Maryland, we've seen firsthand the benefits of choosing this material.
Asphalt roofing remains a top choice for many. It's affordable, versatile, and tried-and-true. Our team of Maryland roofer experts can guide you on the best asphalt options for your home.
Solar Roofs provide homeowners with a sustainable energy solution, making them a smart choice for the environment and your utility bills.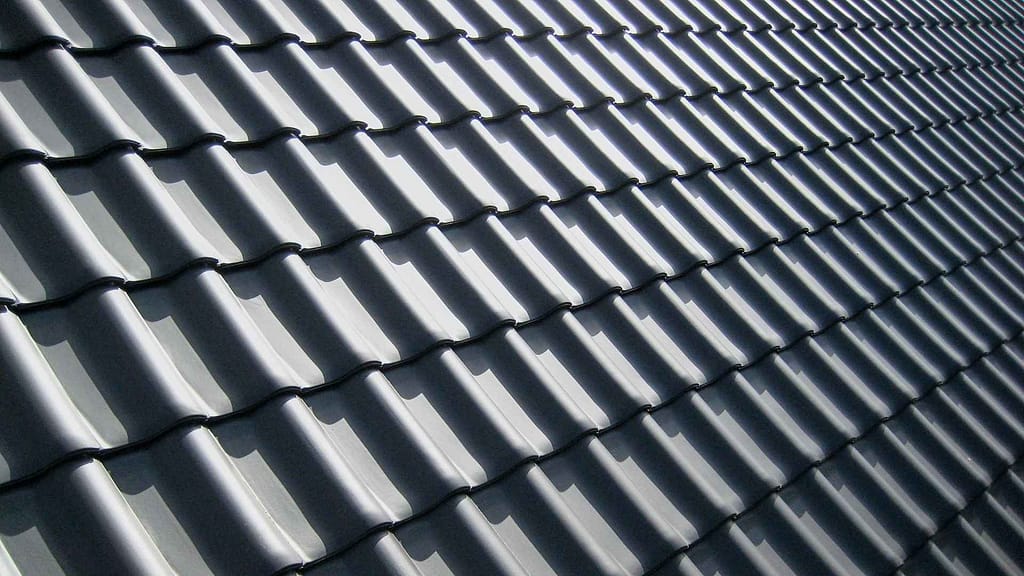 Benefits of a New Roof in Maryland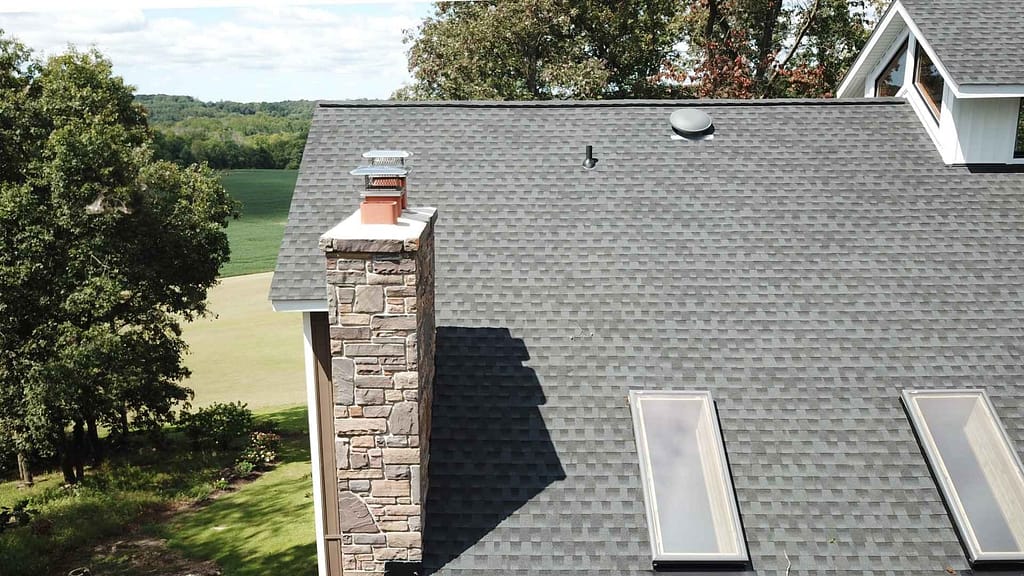 Investing in a new roof is more than just updating your home; it's about enhancing its overall worth and your quality of life. Let's dive into why getting a new roof from a trusted Maryland roofer is a beneficial choice.
Energy Efficiency: A new roof, especially solar roofs, can cut down energy bills.
Safety: Old roofs can be a hazard. New ones offer enhanced protection against elements.
Increased Home Value: Boost your property's market value with a fresh roof.
Enhanced Appearance: From metal to shingle roofs, the right choice can redefine your home's look.
Considering a roof upgrade? Reach out to the top-tier Maryland roofer – American Home Contractors.
When To Consider a Roof Replacement
In the heart of Maryland, particularly in the bustling landscape of roofing Baltimore, it's not a matter of if you'll require a roof replacement, but rather when. At American Home Contractors, we stand ready to navigate homeowners through this pivotal choice, seamlessly transforming what might appear as a daunting task into a worthwhile enhancement for your residence.
Maryland's Demanding Climate: Our state subjects roofs to extreme weather conditions. Icy Winters can cause roofs to contract, increasing the risk of cracks or breaks. Amid the intense and persistent heat of Maryland's summers, shingles can gradually succumb, becoming warped or damaged as time goes on.
Cracked Shingles: Often due to temperature stress. This considers the effects of not just weather, but time and local wildlife.
Visible Wear: Curling, broken, or missing shingles are clear indicators.
Hidden Threats: Leaks, light in the attic, and especially the dangers below the roof where rot and water damage might be lurking.
Comprehensive Assessment: Our estimate process looks both inside and out. We aim to identify and remedy both potential and current threats, ensuring homes remain safe and secure.
American Home Contractors As Your Trusted Maryland Roofer
Experience
Boasting over 100 years of collective expertise, our journey as a prominent Maryland Roofer has been rich and varied. Through the years, we've seamlessly navigated the distinct challenges presented by Maryland's distinctive climate and architectural flair, emerging more adept and proficient after each endeavor.
Reputation
Our track record isn't just about the number of roofs we've installed; it's about the trust and peace of mind we've built with homeowners across the state. As you navigate the realm of roofers in Maryland, there's one name that seamlessly emerges as a top contender, consistently standing out from the crowd. Supported by a plethora of 5-star reviews, our reputation in the roofing industry speaks volumes, making the choice clear for homeowners across the state.
Credentials
Not every Maryland can boast of being a GAF Master Elite Contractor. Our certification, a status held by only the top 2% of contractors, ensures you're getting the very best.
---
Featured Products:
IKO Cambridge Architectural Shingles
IKO Dynasty Lifetime Architectural Shingles
GAF Timberline HDZ Lifetime Architectural Shingles
Areas in Maryland We Service:
FAQs
How long does it take to replace a roof?
In Maryland, the time it takes for a roof replacement often depends on the roof's size and specifics. Yet, many residential roofs can be refreshed within just a few days with American Home Contractors as the leading roofers in Maryland.
How often should I replace my roof?
Usually, a roof needs a replacement every 20-30 years, influenced by the materials and the environmental challenges it faces. As the leading roofers in Maryland, we emphasize the importance of routine check-ups.
How can I tell if my roof needs replacing?
Signs that your roof may need replacing include missing or curling shingles, leaks, or light coming into your attic. We recommend having a professional evaluation from Maryland roofing companies to determine the health of your roof.
Are there specific roofing regulations in Baltimore I should be aware of?
Yes, Baltimore has specific roofing regulations and codes to ensure safety and uniformity. It's essential to follow guidelines related to materials, installation, and permits. Our experts are well-versed in these regulations and can guide you through the process to ensure compliance.
Are there specific roofing regulations in Maryland I should know about?
Yes, Maryland roofing companies adhere to regulations and codes to ensure safe and quality installations.