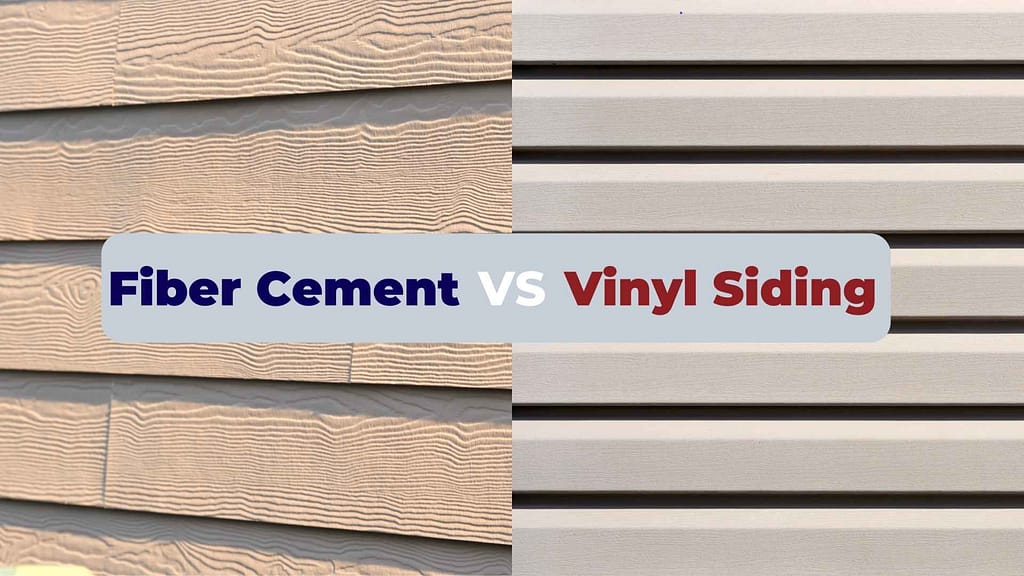 There are a few different types of home siding options that you can choose from. Two of the most popular options for homeowners are fiber cement siding and vinyl siding. It can be difficult to make a decision as there are a handful of different considerations when it comes to choosing the right exterior siding. Luckily for you In this article, we will discuss the differences between fiber cement and vinyl siding, so that you can make an informed decision about what is right for you and your home.
What is Vinyl Siding?
Vinyl siding is the most popular type of exterior siding. It is made from PVC (polyvinyl chloride) and it comes in a wide variety of colors and styles. Vinyl siding is often chosen for its durability, low maintenance, and affordability as it is readily available.
The downside to vinyl siding is that it can be more prone to warping and cracking than other types of siding material options. However, with a good quality vinyl siding product, this should not be a problem. Aesthetically over time portions of the siding exposed to direct sunlight may fade. However, more than 60% of homes in the U.S have vinyl siding on their homes as it is a great budget-friendly and functional option.
What is Fiber Cement Siding?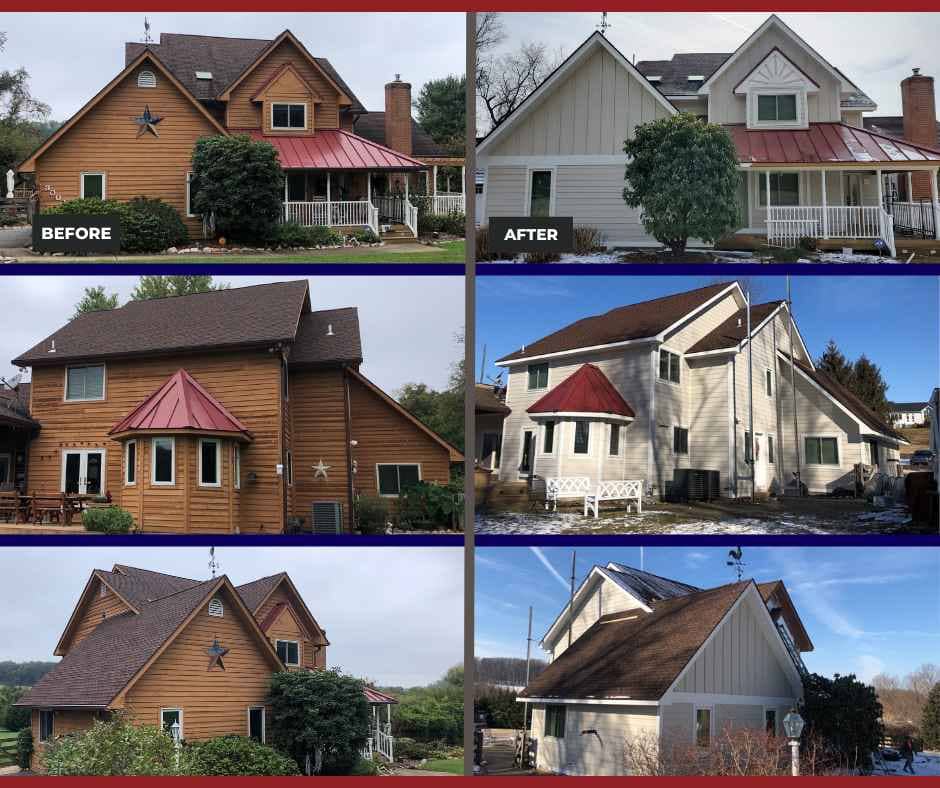 Fiber cement siding is a type of exterior home siding that has been growing in popularity over the past few years. It is made from a blend of cement, sand, cellulose fiber, and water. This creates a very durable product that is resistant to rot, pests, and even fire. In areas where there are abrupt changes in seasons and temperatures, fiber cement siding like the James Hardie Siding we offer can withstand elemental changes more effectively than vinyl siding.
Fiber cement siding can be more expensive than other types of exterior home sidings due to the materials it's comprised of. It can also be heavy, which makes it difficult for some homeowners to install it themselves. However, many companies like American Home Contractors offer specialized installation services.
One of the biggest benefits of fiber cement siding other than its durability is that it can be painted any color you like. Companies like James Hardie even manufacture a fiber cement siding product that comes in pre-painted colors as well! It can also have a very natural wood look, which many homeowners prefer. Another great aspect of Fiber cement siding is it's also more environmentally friendly than vinyl siding, as it does not contain any PVC. With its long lifespan and low maintenance, it is often seen as a good investment. Especially if you want to go the extra mile to protect your home from the surrounding elements, specifically in the DC, Maryland, and Virginia areas.
Siding Warranties
When it comes to choosing the right exterior siding for your home, one important consideration is the warranty. Siding warranties can vary a lot in terms of what they cover and how long they last. For example, the James Hardie siding we offer comes with an exceptional 15-year warranty. It is important to read the fine print of any siding warranty before making a purchase.
Some things that you may want to look for in a siding warranty are:
Coverage for fading or discoloration
Coverage for manufacturing defects
Wind and impact damage coverage
Length of coverage
Be sure to ask about warranties when you are getting quotes from different contractors. This way you can make an informed decision about which type of siding is right for you and your home.
Which Siding Is Right for You?
When deciding between fiber cement and vinyl siding, there are a few things you need to consider:
Your budget
The climate you live in
The style of your home
Whether you want a low-maintenance option
If you are looking for an affordable siding option that is easy to maintain, vinyl siding is a good choice. If you are willing to spend a little more money upfront for a more durable product, fiber cement siding is a great option that will last longer and give your home a more traditional look. No matter which type of siding you choose, make sure to do your research or give us a call so that you can pick the best product for your needs.
Both options have their own unique set of benefits and features. It is important to consider your budget, climate, and the style of your home when making a decision. With so many different types of siding on the market, there is sure to be one that is perfect for you and your home.
Do you need help picking out the right type of siding for your home? Contact us today for a free consultation! Our experts would be happy to help you find the perfect solution for your needs.