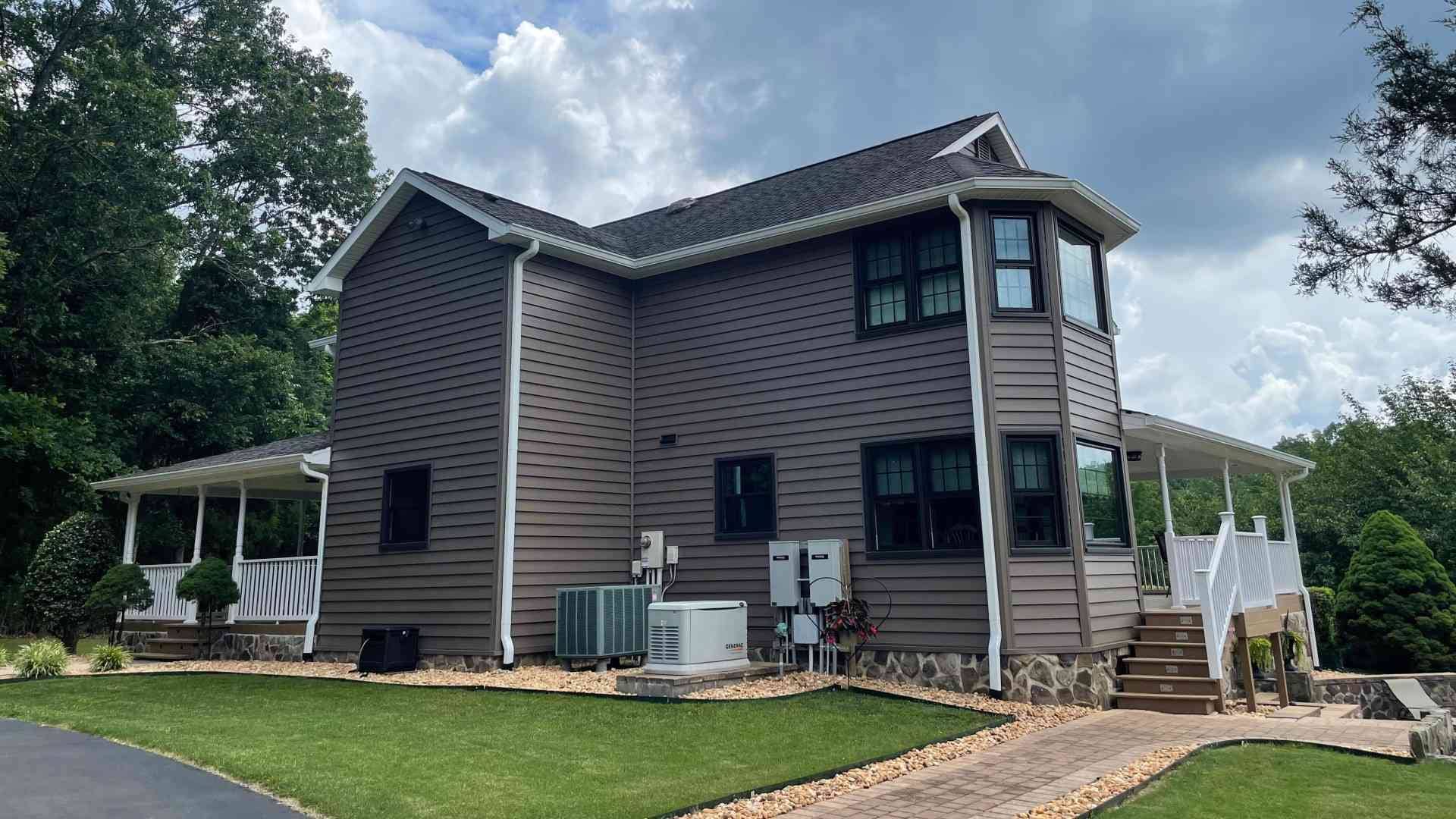 Expert Gutter Cleaning, Repair & Replacement in Virginia
The Highest Rated Virginia Gutter Company
American Home Contractors is a gutter repair, gutter replacement, gutter installation, and maintenance company serving the entire Virginia area. For over 30 years, we've been providing gutter cleaning, gutter repair, gutter installation, and gutter maintenance services to thousands of customers. Our experienced contractors use only high-quality materials and are able to guarantee that your gutters will be installed or repaired perfectly. Our 5-star rated reviews prove that you can trust American Home Contractors with any type of gutter installation or repair service you may need. Contact us today for more information or quotes on our affordable gutter cleaning in Virginia.
Types of Gutters we Install in Virginia
Our Company offers a variety of different gutter styles for your gutter install, so you can find the perfect one to match your home's architecture. We use the Xtreme and Leaf Away brands, which are two of the most popular and well-respected gutter repair systems on the market. We also offer a variety of different gutter guards to choose from. Whether you are having gutter replacement or new gutters installed on a new home in Virginia we can help.
The incredible benefits of Virginia gutter cleaning
Protect your home from water damage
Rain gutters are designed to direct water runoff away from your house, but if they're clogged with leaves or damaged, then the water will stand in the gutters instead. This can result in serious problems like leaks at the seams of your roof, which can eventually cause mold growth and rot structural components. We recommend making sure your rain gutters are frequently cleaned and repaired so you can put off having to do a complete gutter replacement.
Increase the value of your home
Gutters are one of the most important elements in preventing water damage, so if you're thinking of selling your home in the near future, make sure to have them replaced before putting it on the market. A home with properly functioning gutters is much more valuable than one without.
Keep your gutters clean and free of debris
Gutters are a critical part of your home's exterior. They channel rainwater away from your foundation and the surface of your roof to prevent damage from water and ice build-up. Gutters are relatively low maintenance, but it's important to check them regularly and clean out any leaves or other debris that have gathered inside. Tiny bits of dirt can easily clog up your gutters and redirect water back onto your roof, causing it to wear down prematurely.
Looking for gutter cleaning in Virginia? Stop looking and call us! We are a full-service Virginia gutter company, professional gutter cleaning service that offers expert gutter cleaning services and gutter install using the best solutions. Since 1986, we have been providing this service to our customers.
Help prevent mold, mildew, and rot near the foundation
As the water drips down from your roof, it can pick up dirt and debris which can then seep into the foundation of your home. If leftover time, this soil will degrade the quality of your structure and begin to rot or mold. By ensuring that water is directed away from the walls near your foundation, you'll help prevent these problems. Start today by calling us your Virginia gutter contractor.
Virginia Gutter Replacement Process
Maintaining the health of your home's foundation is important to keeping everything in your home running smoothly for years to come. By directing water away from the foundation, you'll prevent soil and other debris from getting into your structure and causing long-lasting damage. American Home Contractors is the best Virginia gutter contractor and can help you protect your home for years to come.
If we are replacing your gutters, the first step will be to remove your old gutters. Then, we will install your new ones in place. Finally, we will make sure that everything is running smoothly by inspecting your new gutters regularly and making any adjustments that are necessary. We always keep our customers in mind when we are doing gutter replacement on their Virginia homes, so know that you can count on us to take care of your home like it was our own.
Hire a Gutter Install Pro
American Home Contractors is a premier house gutter replacement and install company in Virginia. We have over 30 years of experience and we offer quality work at affordable prices! Our goal is to ensure that every homeowner is completely satisfied with the results at every stage of the installation. Contact us today for your free quote, or call us at any time for more information about our Virginia gutter installation process.
We're proud to provide gutter cleaning, repair, and installation in the following Virginia areas:
Arlington County
Fairfax County
Loudon County
Rappahannock County
Fauquier County
Alexandria
Fairfax
Springfield
Herndon
Arlington
Sterling
Centreville
Ashburn
Vienna
Chantilly
Keep the Rain at Bay
Eco Friendly Styles
Save Your Foundation
Installing Gutters Since 1986
Have Questions? Reach Out.
---
Products We Feature
Get Your Gutter Project Started Today