When we talk about solar roofs the first thing that comes to mind is traditional panels on top of your roof, which makes it a solar roof right? Solar enthusiasts and those new to solar have all had this same thought before, but a solar roof is dramatically different from the panel arrays most are familiar with. With new technology behind solar roofing systems rapidly becoming available to residential areas, we are constantly starting conversations with homeowners about what makes a solar roof better than their parent's panels.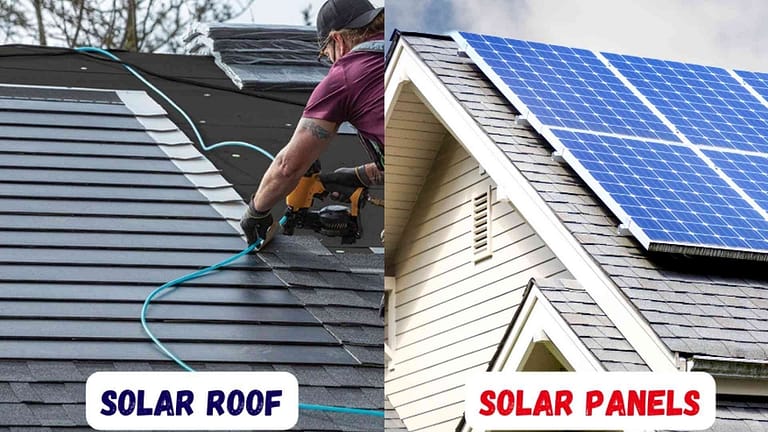 1. Appearance: Say Goodbye to Ugly Panels!
Let's start with curb appeal. Aesthetically, a solar roof puts panels to shame. Companies like GAF and Tesla have managed to create some incredible seamlessly integrated solar solutions that blend right in with your roof.
Walking throughout your neighborhood you've probably noticed some panel arrays on your neighbors' homes. They stand out….a lot! The bulky nature of panels only allows them to be mounted on top of your existing roof. An eyesore to some, HOA's love to make a fuss about them, and they even accelerate damage to your roof. Most appearance issues disappear with solar roofing systems, similar to how the PV cells disappear into your roof!
Instead of panels mounted on top of the existing roof. A Solar Roof involves PV cells directly integrated into shingles. Allowing for an easier seamless installation, and a beautiful appearance from the street.
2. Roof Requirements: Is My Roof Solar Ready?
Your existing roof's condition is one of the largest deciding factors when going solar. Other surrounding factors such as shade coverage, location, age, and condition are all key considerations when installing panels as well. Although possible to install solar panels on top of an old roof we highly advise against it. This is where a solar roof provides an incredible solution for those looking at replacing their roof and considering solar options.
A solar roof is the best of both worlds, it's a new roof with integrated solar technology, and is dramatically different from how traditional panels are installed on top of the existing roof. Eliminating the many downsides when installing panels.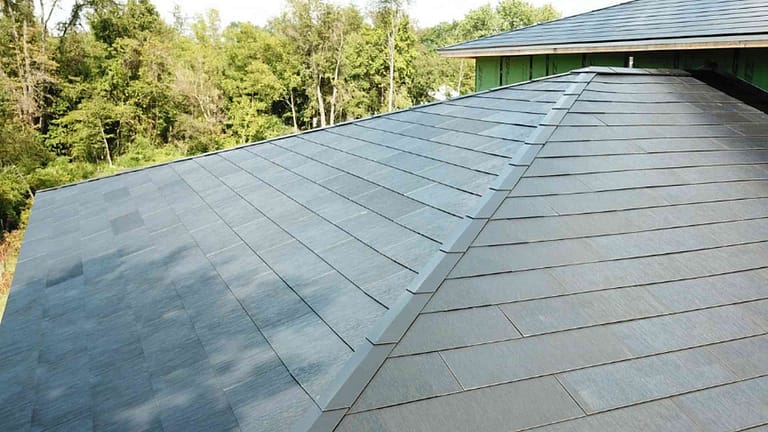 3. Benefits: What Traditional Panels Fail to Have.
An integrated solution like a solar roof offers some of the best protection that regular panels fail to have. By incorporating solar generating capabilities within the shingles themselves they eliminate the need for a mounting system and the troubles that come with it. As mounting panels on an older roof can cause more damage than good, such as:
The gap between panels and the existing roof is susceptible to a constant heating and cooling cycle. Causing accelerated deterioration of the shingles and sheathing underneath.
That same gap is a perfectly warm home for animals to nest and chew through wires.
When mounting there are hundreds of nails going through your roof for the mounting system, leaving room for unsealed holes and potential leaking.
Roof maintenance can be difficult, having to move panels and nail additional holes to fix issues with the current roof underneath.
Most of these issues associated with panels can be eliminated through a solar roof. Installing a solar roof system like GAF Timberline Solar or Tesla's Solar Roof has benefits such as:
It eliminates the gap traditional panels have between panels and roof, by directly integrating solar cells within the shingles.
Removes all spaces for animals to make their home.
There are no holes nailed through your roof's shingles to mount a solar roof system. As it is installed similarly to a regular asphalt roof.
Removes the need for solar technicians to remove panels when roof maintenance is needed.
Paired with tax incentives you will receive for going solar, solar roofing systems are paving the way for a more sustainable future shingle by shingle. Without the hassle or negatives associated with installing and maintaining traditional panels. American Home Contractors is proud to be a certified installer of both GAF Timberline Solar and Tesla's Solar Roof. We're firm believers in the products we provide and have been installing confidence since 1986.
Curious about the cost of a solar roofing system? Read more about them and check out our solar cost calculators. We even offer a free virtual consultation with our solar experts!