American Home Contractors is proud to announce that we are a Tesla Solar Roof Certified Installer (CI). We have spent the last few months designing, installing, and activating Tesla Solar Roofs throughout our service areas. Having completed several projects, we are excited to share our experience and discuss some of the most common questions.
Frequently Asked Questions
Tesla Solar Roof – What is it?
Tesla SR (Solar Roof) is a fully integrated solar system, or simply, it is a roof that produces electricity. The sleek black color with almost indistinguishable trim means you don't have to compromise on the look of your home. Not only is the Tesla SR gorgeous to look at, it is also super durable! These tempered glass tiles are up to 3 times stronger than traditional roofing tiles. They are also perfect for all weather conditions, which is great for our service area which loves all four seasons of weather.
Tesla Solar Roof – What is a Powerwall?
Tesla Powerwall is a battery that stores energy, detects power outages, and provides backup power for your consumption needs. Powerwall is monitored and customized using the Tesla mobile app. Available features include backup-only, self-powered, and Advanced – time-based control. Powerwall is a great addition to any Solar Roof project to get all of the energy use and savings out of your solar system.
Tesla Solar Roof – What is the warranty?
The Tesla Solar Roof has a 25-Year Panel Performance Warranty. This means your solar panels are guaranteed by the manufacturer to at least 80% of their power capacity for at least 25 years. There is also a 10-Year Comprehensive Warranty. This includes the following aspects of your solar system: Powerwall, Solar inverter, Roof mounting, and leaks. Certain exclusions apply, so please refer to your purchase agreement for specific details.
Tesla Solar Roof – What does it cost?
One of the most frequent questions we receive is "how much does a Tesla Solar Roof cost?" Online cost estimators can figure out a ballpark price using basic information such as your address, home size, number of stories, and average monthly electric bill, but without human involvement and a site visit, the online estimated price can be very different from the actual contract price. Tesla SR price is marketed as being comparable to a typical roof + solar panels, but experience has shown us that the Tesla SR is most likely going to cost more. Certified Installers must follow Tesla's retail pricing standards. The price you receive from American Home Contractors is going to be accurate and fair.
Tesla Solar Roof – Does my home qualify?
Based on our experience, most homes will qualify for the Tesla SR. Many previous disqualifying features now have solutions designed and engineered for the Tesla SR. There are still a few complex features that will disqualify the roof, but more solutions are being developed and on the road map.
Tesla Solar Roof -How much power can my roof produce?
System production is based on the amount and location of photovoltaic (PV) tiles. More PV tiles = larger system size (kW). PV tiles facing south are going to produce more than PV tiles that face north. Limiting factors for installing PV tiles are setbacks around obstructions, walls, valleys, hips, ridges, and also shading. System size is regulated by the power company, but system size approval can reach 200% of consumption! Most system sizes we have built over the past few months will produce at least 50% of the home's consumption needs.
Tesla Solar Roof – How long does it take?
Solar projects can take months to go from design to activation. Much of the time is spent in the designing, permitting, and interconnection processes. The time of installation depends on size, site conditions, and complexity. Our project install times have ranged from 4 to 8 days. It is best to set the expectation of spending a few weeks designing and planning the project, a couple of weeks in permitting, a week or two for project install, and another few weeks for inspections and permission to operate (PTO).
Tesla Solar Roof – Are there incentives?
Tesla SR qualifies for the federal investment tax credit (ITC). This is a credit that is applied towards your federal tax liability. Many states also offer incentives, including tax rebates and solar renewable energy certificates (SRECs). Some local incentives include property tax credits. Each state and county is different and incentives are changing all the time. Please reach out to discuss the current incentives for your particular area.
Tesla Solar Roof – Can I walk on it?
The simple answer is, yes you can walk on the roof. However, you do need to take certain precautions when the roof is wet or has other precipitation like snow or ice. The Tesla Solar Roof is quite smooth and can cause a roofing technician or homeowner to fall when wet.
Tesla Solar Roof – Does insurance cover the replacement?
Your insurance company will cover a roof replacement if necessary due to wind damage or hail or other damage to the roof. Insurance will cover what your roof is currently – ie if you have a shingled roof, they will cover a shingle roof replacement. You can take this amount and put it toward your Tesla Solar Roof Installation.
Get a real-time estimate for your Tesla Solar Roof Project Today!
Key Statistics from some of our first Solar Roof Installations:
Warren Roof
Home Location: Fulton, MD
Roof Size: 30 square
PV System Size: 18.477 kW
Roof Installation Time: 4 Days (includes tear-off and dry in)
More Photos by CompanyCam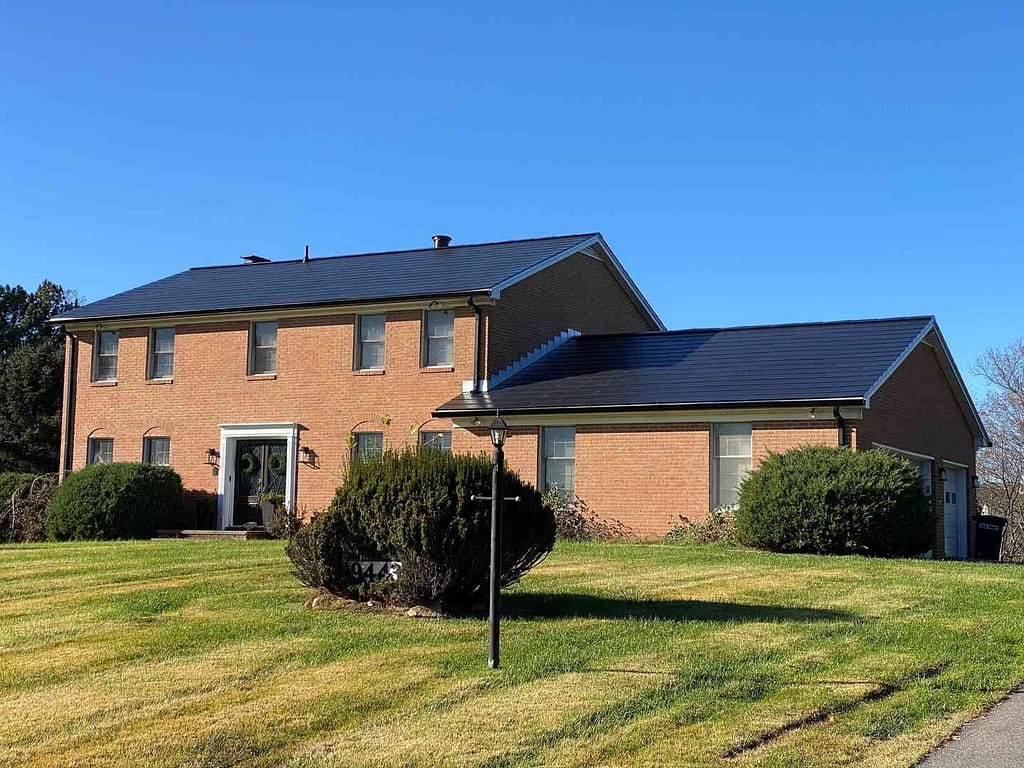 Capriolo Roof
Home Location: Elkridge, MD
Roof Size: 26 square
PV System Size: 8.303 kW
Roof Installation Time: 7 Days (includes tear-off and dry in)
More Photos by CompanyCam
Silverstein Roof
Home Location: Westminster, MD
Roof Size: 30 square
PV System Size: 11.34 kW
Roof Installation Time: 7 Days (includes tear-off and dry in)
More Photos by CompanyCam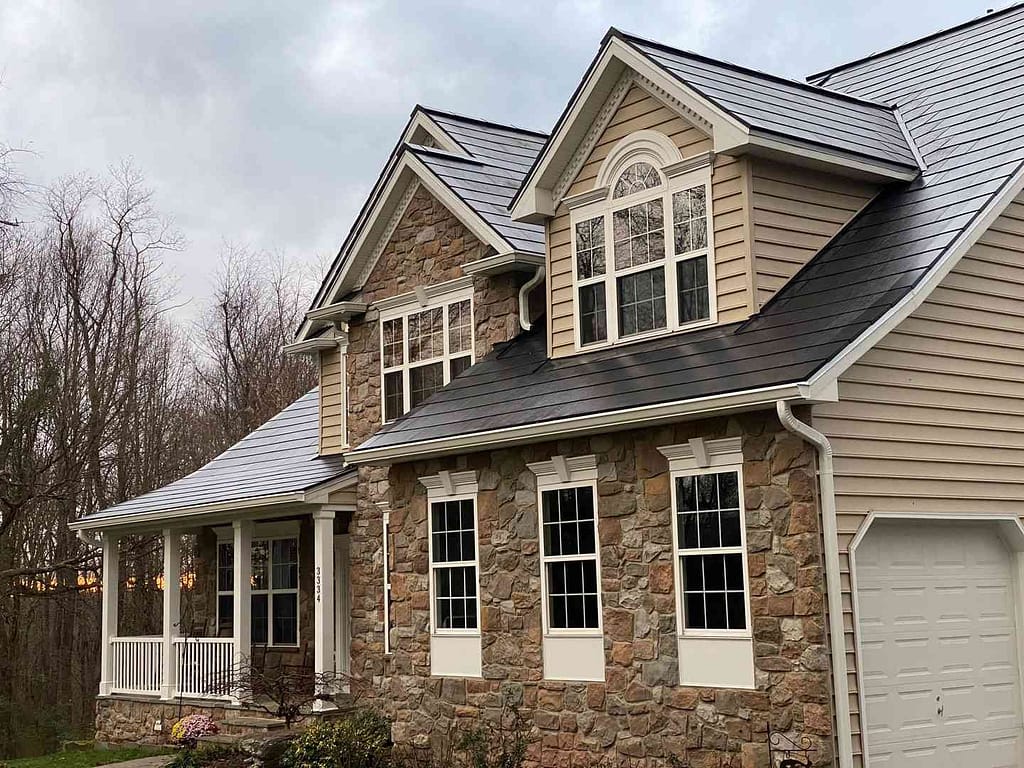 Get Your Project Started Today